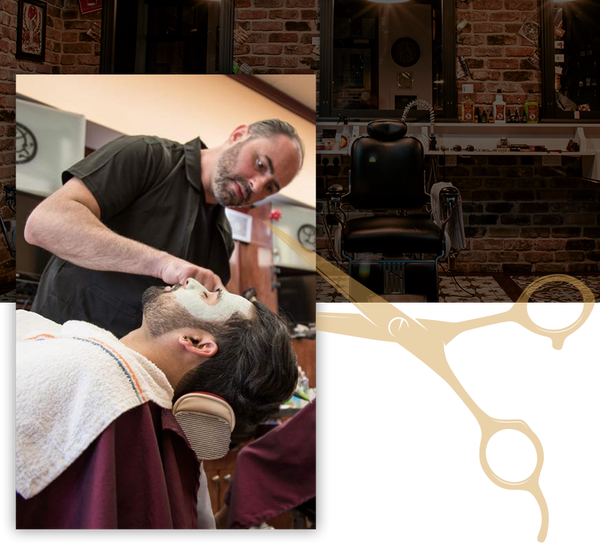 The home of men's grooming
Dennis Ibragimov's family has been in the barbering business for over 100 years, and the barbers there can pull off both classic and trendy looks. The shop is decorated with flatscreen TVs at every station along with your own remote. We also have many antiques that highlight the golden age of barbering. All seven of our barbering chairs are from 1945, along with a 1930s soap machine! Many have asked Dennis how he got started with his business, and here is what he says:
"The answer lays in my fond memories of going to my grandpa's barbershop where he owned classic barbershops for 30 years while I was growing up. I keenly remember the sights and smells of Barbershop and the real experience of being a boy among men. It was a place where I was growing up as a little kid, mastering my skills from shaving to hair cutting. We did it together, and we do more than give a haircut. It was a place that made lasting memories.
My son was born in 2000, and I went looking for a barbershop that would let me make memories with him. I did not find the local barbershop that I was looking for in New York City, or anywhere else, so I decided to open one. This proved to be a challenge, as I became a Master Barber after I immigrated to New York after the soviet union collapsed and learned from my grandpa of the industry. In 2005, the first Dennis Barbershop opened and we have given thousands of hair cuts to parents and their children since.
We have grown Dennis into a business that now has locations in New Hyde Park NY and I am thrilled that so many find a visit to Dennis to be a relaxing pleasure rather than a chore. It is my goal to provide a first-class barbershop experience at a reasonable price. If we do our job right, then you too will get more than a haircut and a shave — the experience will be memorable. My grandpa died in 2010 and in his memory I sincerely hope that the barbershop experience at "Dennis's" is something that you and your child remember for a long time.
Dennis Ibragimov
Founder & CEO
MAKE AN APPOINTMENT
If you happen to be in the North New Hyde Park area and you need to look like a rock star, paying like a has been...